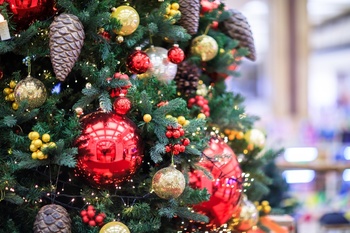 Are you tired of trudging from shop to shop or scrolling through endless websites to find that perfect gift? Take a break and head to your garden centre this year for your Christmas shopping. You'll find a huge selection of great gift ideas for everyone (yes, even non-gardeners), as well as decorations and homeware to make your home look fantastic this festive season. Christmas shopping at your garden centre is an experience that everyone can enjoy. Here are our top tips on what to look out for.
Christmas Shopping at Your Garden Centre
A garden centre is a perfect place to find outstanding gifts for the gardeners in the family. Whether it's that unique gardening tool they've been hankering after, a fabulous garden ornament, or a new pair of gloves (gardeners always need new gloves!), you'll find a wealth of choices at your garden centre.
Garden centres don't only have gifts for gardeners! Browse through the homeware section for great gifts to add comfort and style to the home. From Horstings Products to Floral and scented candles to coffee mugs, there are endless gifting ideas for all your favourite people.
We haven't forgotten about the kids, either. You'll find our Christmas Village and Train will brings smiles and memories that live on for many years. You might even find yourself getting into the Christmas Train too!
Decorate your home in style this festive season with our fantastic Christmas ranges. Whether it's strings of fairy lights to brighten up your house and garden, wreaths for your front door, or sparkling decorations for your tree, you'll find plenty of inspiration in your garden centre.
It wouldn't be Christmas without a Christmas tree, and a Little Mountain is the perfect place to find one. From natural fir trees that reach the ceiling to miniature artificial trees just right for a side table, you'll find the perfect tree for you and your family.
Visit Your Garden Centre in Chilliwack this Christmas
To start the holiday season, we invite you to come over to our Christmas garden centre. Our Christmas shop is open, so you're free to visit us for Christmas shopping. If you need some inspiration for your Christmas table or are looking for energy-saving Christmas lights or a stunning artificial Christmas tree, come in and visit our store! There's something for everyone in our festive Christmas ranges.